ABOUT US AND OUR MINISTRY
Jack and Carolyn Burbridge founded FROM CRIME TO CHRIST MINISTRIES IN 1972. Jack's life story, THE ENFORCER,
was released in 1980 and has been distributed in jails and prisons around the world. Jack worked building cars upon his release from
prison in 1971 to raise his family and go back into the prisons to tell inmates the love that JESUS has for them. In 1980, he and
Carolyn went out full time and the LORD has provided since then for them to continue the ministry HE has called them to.

Jack has always had a love for motorcycles. In 1960 he and Carolyn had a motorcycle wedding. In 1998 GOD showed Jack how he
could use motorcycles as a witnessing tool behind prison walls. By training several bikers in the prison ministry the doors of the prisons
were open for him to have Bike Rodeos in the prisons. Now there are several groups of bikers going into the prisons across the state
of Arkansas, Iowa and Indiana. This gets inmates out to the yard that would never come to the chapel. Hundreds of thousands have
come to JESUS because these men and women are willing to go behind bars and share the love of JESUS.

Jack and Carolyn are also available for Biker Sunday at churches. They bring a group of motorcyclists to a service that shows everyone
that you can be a Christian and a biker too. It shows young people you can have fun being a Christian and it shows older people that
you shouldn't judge the person by the outside. Jack and Carolyn are also available to minister at your church without the bikers. Jack
also holds meetings in schools with other bikers. They are not allowed to preach in the schools, but instead they tell the youth about
"choices" they make that can affect their whole lives.

Most of the ministries support comes from individuals who believe in what Jack & Carolyn are doing.

---
Newsletter
August 2011

JACK & CAROLYN BURBRIDGE PRISON MINISTRIES

From Crime to Christ, Inc.

Praise The Lord! !! Thank you so much for your contribution in July!! It was quite a month for us. We headed for Indiana and on the way I broke out with
shingles on my forehead going into my eye. I am being treated by a ophthalmologist. Had to be treated in Indiana Until we got home on August 7th.
First day in Elkhart, IN the trike broke down by the side of the road. The modulator went out. On the way home we stopped at a campground and was
invaded with millions of baby mosquitoes. The whole trip of 1,500 miles was almost all without an air conditioner as the generator kept shutting off. And as
you know it was near 100 degrees. The only time we had air was when we were plugged into electric at a campground. Well, we found out that the modulator
was out in the generator also. We had to order it and we will be making the second trip an hour away with no air condition tomorrow. The modulator
alone is over $300 not counting labor. So with all the repairs and continues visits to the eye doctor it has been a very costly summer. I have to continue the
doctor visits for quite some time yet as they are keeping a close watch on the cornea, as it could lead to blindness, but I have a lot of prayers going up for
me!! So this was the second year that I could not attend the meetings in IN. Last year I broke my ankle the second day there. But the meetings were
awesome!! Started in Thayer, MO was a biker Sunday. In Peru, IN Jack went to a prison, and in Northern Indiana Jack had a bike/car show, a biker church, 3
church services, juvenile prison, plus taking such good care of me, doctoring me all the time putting up to 14 drops a day in my eye at different times. Two of the
prisons were canceled as there were 3 killings in the prisons there. I do believe the devil is mad at us!! But we would rather have him mad at us then to be

happy with us!! Tonight Jack is at the local county jail giving the devil another black eye!! We covet your prayers for health, strength and traveling mercies.

And of course for our finances that have been hit so heavy! Our God is the Great Supplier of all our needs.

OUR GOD IS ABLE TO SUPPLY ALL OUR NEEDS ACCORDING TO HIS RICHES IN GLORY!!!!
In His Love & Service;
Happy Jack & Mama Carolyn
---
Newsletter
June 2011

JACK & CAROLYN BURBRIDGE PRISON MINISTRIES

From Crime to Christ, Inc.

Praise the Lord! Well, it has been six months since our last newsletter in December. We left for Texas on the 1& of December. Stopped off in Logansport, LA where we had services at a Cowboy Church. Then continued on to Camp Ta-Ku-La in Chester where we spent the next three months working at the camp and having meeting around the area.
We spoke at a Lion's Club Meeting in Woodville, TX. Then had two days of meeting at Chester High School. The young people were very receptive and had a lot of questions. Want to mention that our good friends, Dave & Darlene Trinkle, from Illinois spent the winter with us at the camp and went to meetings with us. We went into the prison in Woodville again this year. Was good to see our friends again there. We had three church services in February. And two youth services. In February Chuck & Kookie Nipper, from Clinton, AR, came and spent a few days helping at the camp. Later in the month Herb & Mary Dal Santo, from Logansport, LA, came and helped scrape on a two story building, helping prepare it for Jack to paint. In March Nick the Greek and his friend, Terry stopped on their way through to Louisiana. We always enjoy a visit with Nick. We spent most of March preparing and painting the house. Had a church service in Logansport, LA with our good friends, Herb & Mary Dal Santo. We got home on our daughter, Jackie's, 50th birthday. Was home six days when our home flooded from a broken water heater. We were still in the motor home so didn't discover it right away. We are spending what available time we have tearing up carpets and laying laminated wood tiling. Jack is going into the local jail every week while we are home.
We are going to cut down our mailing list drastically. You will be able to read it on our web site, fromcrimetochrist.com Of course, if we receive a donation from you in any given month you will receive a thank you letter with up-dates of our activities. So, if you check the web site in December and June you can read the newsletter. It takes money and a lot of time to put together a newsletter, so I hope you will understand.
We are so thankful for each and everyone of you, for your love, prayers and financial help. It is not an easy ministry He called us to but He gives us the strength to keep going on. We so appreciate every financial contribution whether it is large or small as it has been a very hard year financially. OUR GOD IS ABLE TO SUPPLY ALL OUR NEEDS ACCORDING TO HIS RICHES IN GLORY!!!!
In His Love & Service;


Happy Jack & Mama Carolyn

---
Newsletter
December 2010

JACK & CAROLYN BURBRIDGE PRISON MINISTRIES

From Crime to Christ, Inc.

MERRY CHRISTMAS / December 2010
Praise The Lord!!! What a busy six months we have had since our last newsletter was sent out. Enjoyed Nick the Greek being with us for a week in June.
And we celebrated our 50' anniversary quietly together. We thank everyone for the many cards we received.

Then in July we went to northern Indiana for our prison meetings there. I, (Carolyn) ended up spending the time in the motor home with a broken ankle.
But what awesome meetings in the prisons Jack had. We were able to go into a juvenile prison for the first time in that area.
70 young people , ages from 12-16. Had a great response from them and are invited back every year.

In August Jack had services in our local jail every Wednesday. Also went to a youth center here in Arkansas.

September continued being busy in the local jail and also at the jail with the youth south of here. Then on to the Hot Springs Motorcycle Rally where we helped in
registering and had the Sunday service. Then back to Hot Springs for the Cannon Ball Run. Several 1916 and older motorcycles coming through. Jack was able to be a
go-fer for parts etc. as they spent two nights in Hot Springs getting the bike prepared for the rest of the journey. Jack thought he died and went to motorcycle heaven.

October we had another motorcycle rally where Jack did the Sunday morning service. Jack had two falls in October.
One he fell off the back of a pick up on a motorcycle that he was unloading and then two days later he fell off a ladder in the garage.
A couple of weeks before that he walked into the rocker in the dark and broke two toes and pulled a muscle in his ankle. He also had four jail meetings in October.

Now into November, still doing the weekly jail services. Jack made a trip to Dyersburg, TN to take a friend to pick up a Boss Hoss motorcycle.
And we ended November with our 7' Annual Toy Run where Santa gave gifts to 130 children and 96 hamburgers and 100 of dogs were devoured.
It was very draining on our physical bodies organizing every thing for a couple of months but we know that God will restore us. Oh, we also spoke to 6 classes in a high school.
We are so thankful for each and everyone of you, for your love, prayers and financial help. It is not an easy ministry
He called us to but He gives us the strength to keep going on. We so appreciate every financial contribution whether it is large or small as it has been a very hard year financially.
OUR GOD IS ABLE TO SUPPLY ALL OUR NEEDS ACCORDING TO HIS RICHES IN GLORY!!!!
In His Love & Service;
Happy Jack & Mama Carolyn
---
50 YEARS TOGETHER CELEBRATED JUNE 24, 2010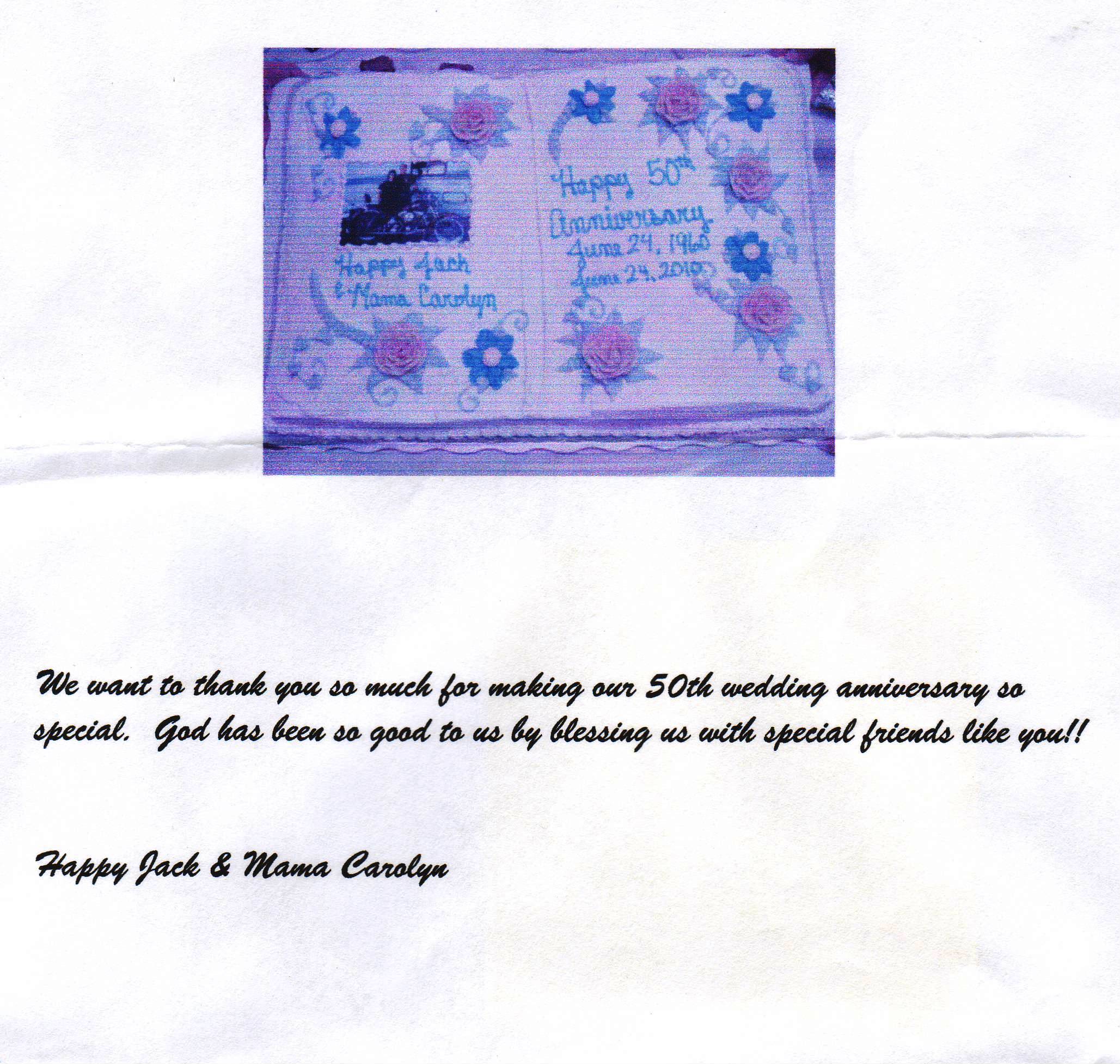 50 YEARS TOGETHER
COME CELEBRATE JUNE 24, 2010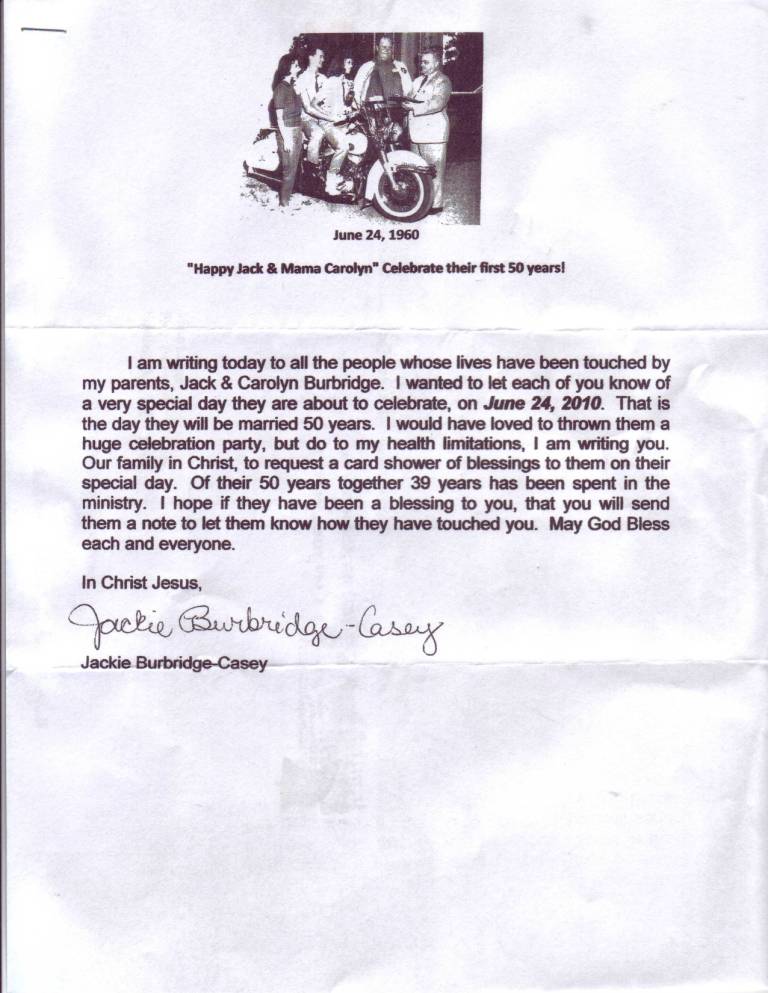 ---
Newsletter
June 2010
Praise The Lord!! You have not gotten a newsletter since last December. We are only sending out one in June & December now in order to save on finances.
We do send out a thank you note to every contributor. So some of you get 12 a year. We send out almost 300 newsletters and get less then 30 contributions a month.
So you see why it is necessary to cut down on mailings.
It has been a very busy 6 months. In January I (Carolyn) had some chest pains and had to delay our trip south for a month till I had a lot of tests done.
Tests revealed nothing but a 50 % blockage in an upper aorta. Was told they don't do anything unless it is 70%. I believe all the prayers sent up for me were answered.
While we were home Jack's cousin's husband died very unexpectedly and he went to IN to be with Doris for the funeral. We left for TX on Feb. 18'.
We did have to cancel one service in LA. While in TX we had a prison service and a youth meeting and 2 church services. We had a great response at
the prison where many lives were touched. Jack worked at the youth camp where we stayed, painting a two story house and fiber glassing and
painting 3 swimming pools. On the way home we went to a Bike Rally in OK. Then the end of April Jack broke some spurs off
in his back and was laid up for a while. We had a meeting at a women's shelter and Jack had 6 meetings at the local county jail. He has been training
a friend to do the jail ministry, while we are gone. Then a week ago we did a bike rally in OK. Now we are getting prepared for the busy summer months.

On June 24' we will have our 50th wedding anniversary. God has been good to us and we are so grateful to Him.
We thank Him for our children, grand-children and great-grandchildren!!
We are so thankful for each and everyone of you, for your love, prayers and financial help. It is not an easy ministry, He called us to but
He gives us the strength to keep going on. We so appreciate every financial contribution whether it is large or small.
OUR GOD IS ABLE TO SUPPLY ALL OUR NEEDS ACCORDING TO HIS RICHES IN GLORY!!!!
IN HIS LOVE;
Happy Jack & Mama Carolyn
---
A VERY MERRY CHRISTMAS AND A HAPPY NEW YEAR TO YOU!!!!!
We are another year closer to our Lord's return Glory!!! Things may get harder but it is a sign of HIS Coming!!
We are so excited at the things He is doing through us. From little children to old ages. We would like to
share a essay letter we got from a high school student after speaking at six classes; Change is often the result
of memorable or powerful experiences. An experience that somehow changed me as a person was reading
a book entitled, The Enforcer, and then meeting the characters. At 16 years old I could never see anything
changing my life because I'm young and don't ever listen to what anyone tells me for the better of my life. The
main character of the book, named Happy Jack, almost brought tears to my eyes. After telling me he tried to
kill his family and how he shot down a bar, well, a 16 year old like me would think that would be really cool.
But after him also telling me how God changed his life, little did Happy Jack know, he changed mine.
Happy Jack really got to me after telling me about the blood of Jesus and how He shed His life for me to
see another day. He also told me that God sent us to earth for a reason and the reason wasn't what I was
doing in my life already. God sent me to earth to serve Him and to help others. Don't get me wrong, I've heard
that story plenty of times before but it never got through to me. I never really cared about what anybody told me.
I always did my own thing. But through Happy Jack's experience in life somehow helped me and after him telling
me the love of Jesus and the ways he put it, I'm proud to say Happy Jack really changed my life. We know this took
up a lot of space but we wanted you to know that we are reaching not only prisoners but also young people that may
become prisoners if they are not reached for Christ.
The holidays are a hard time for prisoners. We ask for your prayers for them and their families in your prayers. We ask for
your prayers as we head to Louisiana and Texas next month for meetings. The last few months has been a real struggle
financially, but we know God will supply somehow. He always does.
We are so thankful for each and every one of you who support us with your love, prayers and finances. We know that it
will be worth it all when we all share heaven together.
IN HIS LOVE;
Happy Jack & Mama Carolyn
---
GOD IS GOOD!!! It has been seven months since we have put out a newsletter. Of course you have gotten a thank you note in the meantime if you have
sent a contribution. We haven't forgotten you, don't forget us. We have been really busy. We spent about six weeks in Texas the first of the year.
Did a lot of manual labor at a youth camp while there. The grounds were damaged from a previous hurricane. The prison we had scheduled there was canceled
due to a lock down, but there was still plenty of divine appointments met. There is a lot of hurting, hungry people everywhere. When we got back home an ice
storm had knocked down a tree and it took the power out to the electric box that we hook the motor home up to. And a couple of weeks ago a wind storm
came through and took down two huge trees in our back yard. We still have to get them removed. While in Texas Jack and Dave Trinkle took a 200 mile trip to pray
for an ex-Bandido leader. He had served 16 - 1/2 years in the Arkansas prison system and was sent home to die. We have a Healing God and are believing for a mighty
touch on his life. Of course we gave out hundreds of pennies from Heaven. In May we rode our bike down to Conway, AR to greet the Rolling Thunder as they came through
on their way to Washington DC. April we went to an alternative class of high school children that have already been in trouble with the law.
If you would like to receive our newsletter via Internet you can do so by going to our web site. The address is on the left side of this letter. Also, please note that
our email address has changed to fctc@artelco.com. If you would like to get the letter off the web site let us know so we can take your name off the mailing list and
send us your email address so we can notify you when we put out a new newsletter. This will save on expenses too. Also if you want our schedule email us and we will
mail it to you. We are trying to cut expenses anyway we can.
We know that times are difficult now, but please pray and if the LORD leads any size contribution will be greatly appreciated. We will also be with the Patriot Guard for the
funeral of the young soldier shot here in Arkansas at the recruiting station. We also have a prison here in the state before we leave in July for prisons in Indiana.
Thank you for your love, prayers and financial help to us in this ministry.
IN HIS LOVE;
Happy Jack & Mama Carolyn

---
Merry, Merry Christmas and a Blessed New Year to One and All!!! We are so thankful for each one of you!!
Next month it will be 38 years that God had blessed us with being able to be in this ministry. There is no
way that we could even imagine how HE has worked through us the many miracles that has occurred.
And all of you that has supported us in one way or another are a part of it. We have some that have stood by us
for the 38 years. We have new ones that we meet over the years. We are so thankful for your love and prayers and
financial help. There has been a lot of struggles over the years, but GOD had given us the strength to overcome.
He has strengthened our bodies and refreshed our minds. One of the greatest obstacles in this ministry is financial,
which you have heard very little about from us. At the present we need a financial blessing from the LORD.
We know GOD will provide as HE has never failed in the past. We realize that the future according to the world
doesn't look good, but our future is awesome!!!
It never ceases to amaze us how GOD uses us as HE does all that is available to be used. Just this week we had a
accident just out front of our home. The lady said that an angel came and pulled the door off her left leg. She said it
had to be an angel cause he disappeared right afterwards. Jack pulled the door off her leg and when the police and
medics got there he directed traffic, that is why she didn't see him again.
One day I was taking a daily walk. It was a damp day so I decide to walk through the mall area. As I was walking I
noticed a postcard laying on the ground beside some cars. I walked on by and something told me to go back an pick it
up. I did and it was addressed to an inmate in a federal prison and signed Dad, but no return address. I sent it on to the
inmate with a note explaining the circumstances. This was a year ago, and we have been corresponding with him
since. We got a letter last month with a copy of a certificate he had gotten for taking part in a Kairos program.
He said, "Because it was your simple act of picking up that postcard last year and mailing it to me that set
things in motion. I am where I am today, in part, because of you."
Our letters are kept to one page to save on ink. I do our newsletter printing myself. So we try to get it all crammed in.
It has been a blessed year and we are looking forward to being used by our KING in the New Year!!!
Continue to support us in any way you can, with your love, prayers and finances.
IN HIS LOVE;
Happy Jack & Mama Carolyn
---
Praise The Lord! !
A lot has happened here in Arkansas since our last newsletter.
Just days before we were to leave for our tour in Texas, a tornado hit our area.
Many homes were completely destroyed. We went down the hill into our garage and watched the tornado pass
by about four miles from us.

We postponed our trip for a few days so Jack could be available for any assistance in counseling, etc..
We were able to do a lot of ministering while in Texas and Louisiana the next three weeks.
We were invited to minister to a youth group at a church near the campground where we were staying,
with an invite to come back next year to minister to the whole church congregation.

Also an invitation to go back to Louisiana some time this year for a tent revival.
The day we were to come home a snow storm hit Arkansas. So postponed coming home for a couple of days.
Then the day after we got home another snowstorm hit. Oh boy, Jack sure wished we would have went south instead of north!!!
Then a few weeks later we had a couple of bouts of bad floods.

Sounds like our Lord's coming is very near!!! In fact, our one prison meeting was canceled because of the flooding.
Some of you may have seen on television the house floating under the bridge. That was the bridge we would have been crossing to get to the prison
that night. But God has been good to us and we were spared any harm during this time. We have had quite a few meeting the
last couple of months since we have been back.

We had a Biker Sunday and also spoke to the Fellowship of Christian Athletes.
Jack spoke to the young men and women at the youth detention here in Arkansas where five young men
(one of them who had tried to commit suicide that morning) and three young women were saved. Jack also ministers daily at the local B&R
when we are home. Several answered prayers from there.
One of the greatest obstacles we face now is the gas prices as we head out for the summer tours.
In June we will be traveling first to southern Indiana, Illinois and Missouri. Then on to northern Louisiana. In July we will be in northern Indiana.
Some of the contributions have dropped coming in. We can sure understand how that may be with the cost of living going up.
But we also know that if God wants us going he will supply the means to go!!!

We really desire your prayers for us as we prepare for the summer months of traveling. We are so blessed by the Lord
to be still riding our motorcycle at our age. It saves a lot when we get to the areas that we are ministering.
We take the motor home to where we are going then we ride the bike while we are in the area.
It saves a lot in fuel, cause that motor home has a big appetite for gas. Smile!! So if the Lord places on
your heart to send some meals to the motor home we would sure appreciate it.
Thanks for all your LOVE to us!!! Happy Jack & Mama Carolyn
IN HIS LOVE;
Happy Jack & Mama Carolyn
---
Merry Christmas and a Happy New Year to You!! We are another year closer to the appearing of our Savior!!! There are so
many souls that need the saving grace of God. So much work to be done. We thank our Lord for the strength He gives us to
keep on the firing side. Every month has been busy for us. Even as I write this newsletter Jack is speaking at a men's meeting.
Last month he spoke at a high school in six classes plus during the lunch hour at a Christian meeting. The teacher is still amazed
at the response from the young people. She had them write their reaction and she has made copies for us. We are anxious
to read them.
Letters from inmates pour in every day. Some times we are so busy in meetings that it takes a while to get them answered,
but we answer every one of them. So many are tired of their way of life and want to know how to be saved.
This past year has had us in prisons, schools, churches, secular motorcycle rallies, motorcycle drag races and lots of one on
one witnessing. We mad a total of four trips to Indiana this year. Jack's bother was in the hospital and rehabilitation center since
May and the Lord took him home in September. We have the blessed hope of being together for eternity someday.
A lot of you have heard Kelly Masters sing in our meetings. On November 10th her 23 year son was killed in a motorcycle accident
in North Carolina. He had gotten back from Iraq three weeks before. He left a wife and two small children; one had been born
while he was in Iraq. Please keep Kelly and the family in your prayers.
We are looking forward to the up-coming year and winning new souls for His Kingdom. We thought as we grew older that
things would slow down. We now know that it is only going to accelerate and we ask for prayers for strength. We know He will
be with us as He sends us out. We are thankful for your prayers sent up on our behalf. This is not a one man or one women ministry.
We need each and every one of you. Thank you for your love and support!

IN HIS LOVE;
Happy Jack & Mama Carolyn
---
Praise The Lord!!! I am a month late with this newsletter. We had to make a trip up north last month,
as Jack's brother, was in the hospital and things were touch and go for awhile. But our God is good.
He is in a rehabilitation center now and doing much better. Please remember him in your prayers.
Carolyn's sister had hip surgery June 25th. We are busy keeping prayed up. What do People do without the Lord!!
We had our 47' wedding anniversary on June 24th. God has blessed us so much over the years.
Never in our wildest dreams would we have imagined how the Lord was going to use us.
And to think that when we had that motorcycle wedding all those years ago that we would be still riding
a Harley Davidson when we were 70 years old. Oh, God must have such a sense of humor!!
We will be headed north in a couple of weeks for our annual meetings in the prisons, etc.
We appreciate all your prayers during this time of travel and ministering.
We were so blest to be able to ride with over 100 motorcycles here in Arkansas to welcome
home from Iraq, a 20 year old man who lost both his legs and was burned over 90 percent of his body.
He walked on his short prosthesis for the first time that evening. It thundered, lightening
and poured down rain while we having the program, but we all knew it was nothing compared
to what that young man had went through.
We would like to share a note we received from a man in a jail in Arizona.
: Mr. Burbridge, You have given me hope in my life.
I thought I would write to you and say thanks for your story.
It made my heart feel again, because all I lived for was pain too.
Now I know the pain will quit. Thanks, D. L.
Thank you for your love, prayers and financial help to this ministry. We love each and every one of you!!!
IN HIS LOVE;
Happy Jack & Mama Carolyn
---
Praise The Lord!! Well, the robins are singing and we are hearing the roar of motorcycles flying down the highways and byways.
Our schedule for 2007 is filling up and the Lord is renewing our strength. The older we get, the more the winter months seem to drag
these old bodies down. But it is amazing how God gives us the energy to 'git'er done' when the days warm up. And we will keep on
keeping on' as long as He supplies the needs of this ministry.
We had a service in the women's prison here in Arkansas in December. There is one main women's prison, but it is getting so full they are putting
them in other units also. In January we had a service in the men's prison in the north central part of Arkansas.

We are helping with a bike rally at our county fairgrounds which will take place in September. This involves a lot of preliminary
work. Jack is on the committee for this event. So he has been busy working on it in between other things.
We are ever so grateful for your involvement in this ministry with us. It touches so many lives, not just the bikers and inmates but
whoever God causes us to come into contact with. There is no discrimination in this ministry. If they need spiritual help, no matter what their
station in life, we are there to help them. If you are with us with your love, prayers or financial help, you have a big part of the ministry. Again
God Bless You for all your help and concern. We love you!!!
IN HIS LOVE;
Happy Jack & Mama Carolyn
---